The NC Butterfly Festival, Hudson, North Carolina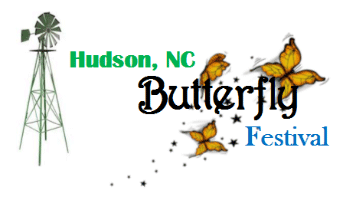 May 5, 2017 Friday Night Cruise-In 5-8 pm
May 6, 2017 Butterfly Festival 9 am - 6 pm
ur next Butterfl Festivl: Saturday, May 6, 2017
Silk Groove Band will be performing in Hickman Windmill Park at 6:00 pm on May 6th, immediately following the Butterfly Festival.
If you are a vendor and wish to participate in the 2017 Festival, please download and complete the

Vendor Application form
.
Welcome to the 2017 NC Butterfly Festival!
The Town of Hudson is pleased to announce that they will once again be hosting the Annual Hudson Butterfly Festival on Saturday, May 6th from 9 am 'til 6 pm. There will also be a "Cruise In" for all types of automobiles in downtown Hudson on Friday, May 5th from 5pm 'til 8pm which is the "Kickoff" event.
This year's festival looks to be one of the largest on record. Last year's event brought in estimated crowds of between 12,000-14,000 people. The festival features great food, antiques, crafts, art & pottery of all types plus much, much more. There will be day long entertainment with the culmination ending up in the Hickman Windmill Park and a concert from 6pm 'til 8pm...band to be announced later.
The town is looking for crafts, arts, businesses, civic groups, churches, political groups & more who would like to have a booth at the festival. Booth spaces are approximately 10 x 10 feet in size and cost $75 for a non-powered booth and $100 for a powered booth (limited availability).
Returning vendors, welcome back! If you would like to request a certain space number, please do so on the application. Although we cannot guarantee it, we will make every effort to accommodate you. Please know that every effort is made to ensure that you have a pleasant festival experience. As you know, every spot is a good one. There are no bad locations.
Food vendors: we are only accepting two vendors per food type. (Example: hamburgers, hotdogs, funnel cakes, bar-b-q, etc.). All other vendors: if you are a sales rep for a company, please list company so we only have one vendor of all interested companies. (Example: Mary Kay, Avon, Thirty-One Gifts, Pampered Chef, etc.).
Special Note: As mentioned above, our festival hours this year are 9:00 am until 6:00 p.m. The Festival will end with a concert in Windmill Park located behind Town Hall. Vendors may begin set-up at 7:00 a.m. on the day of the festival. We ask that all vendors plan to remain open until 6:00 p.m. A rain date has been set for Saturday, May 13, 2017.
If you are interested in participating in our festival, please fill out an application, make your check payable to HCDA, and mail to The Gold Mine, 545 Main Street, Hudson, N.C. 28638. If you have questions, you may call Bill or Angie Warren at (828)726-1009 or by email goldman86@bellsouth.net . Application DEADLINE is April 3, 2017.
Spaces are limited, especially for food vendors, so make sure to return your completed application by April 3rd!! You will receive your confirmation letter with your assigned space number by Mid-April.
Thank you!
Hudson Community Development Association
Click here to enjoy pictures from our 2016 festival!!